Kanamycin Sulfate (CAS: 25389-94-0 )





Catalog #:EBC51160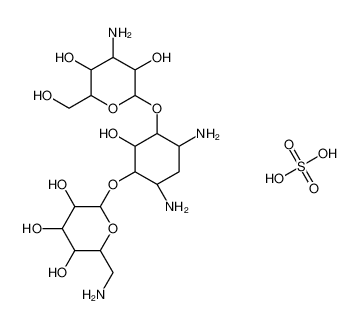 Kanamycin Sulfate (CAS: 25389-94-0 )
| | | | | |
| --- | --- | --- | --- | --- |
| | SKU-Pack Size | Availability | Size | Price |
| | EBC51160-1ML | In Stock | 1mL(10mM in Water) | ¥490.00 |
| | EBC51160-250MG | In Stock | 250mg | ¥290.00 |
| | EBC51160-1G | In Stock | 1g | ¥390.00 |
| | EBC51160-5G | In Stock | 5g | ¥690.00 |
If you want to get a larger packsize, Please contact your local distributor or
email us at
info@ebiocell.com
| | |
| --- | --- |
| | Please Select The Country You Are In To Find Your Local Distributor. |
北京美瑞克生物科技有限公司
Phone: +86 010-62890160 / 13691184142(微信同号)
2 / F, 128 malianwa North Road, Haidian District,
E-mail:

mrkbio@163.com

China
Beijing China
Website:

www.mrkbio.com
Product Information
Synonym(s)
Kanamycin
Chemical Name
2-(aminomethyl)-6-[4,6-diamino-3-[4-amino-3,5-dihydroxy-6-(hydroxymethyl)oxan-2-yl]oxy-2-hydroxycyclohexyl]oxyoxane-3,4,5-triol;sulfuric acid
Application
Kanamycin sulfate is an aminoglycoside bacteriocidal antibiotic which acts by binding to the bacterial 30S ribosomes.
CAS Number
25389-94-0
Purity
≥98.0%
Molecular Weight
582.58
Molecular Formula
C₁₈H₃₈N₄O₁₅S
SMILES
OS(O)(=O)=O.O[C@H]1[C@](O[C@@H]2[C@@H](N)C[C@@H](N)[C@H](O[C@@]3([H])O[C@H](CO)[C@@H](O)[C@H](N)[C@H]3O)[C@H]2O)([H])O[C@H](CN)[C@@H](O)[C@@H]1O
Solubility
Water: 50.0 mg/mL (85.8 mM)
Preparing Stock Solutions

Concentration

Solvent

Mass

1 mg
5 mg
10 mg
1 mM
1.7165 ml
8.5826 ml
17.1651 ml
5 mM
0.3433 ml
1.7165 ml
3.4330 ml
10 mM
0.1717 ml
0.8583 ml
1.7165 ml
50 mM
0.0343 ml
0.1717 ml
0.3433 ml

Shipping
Gel Pack
Storage
Store at -20°C
Research Use
For Research Use Only. Not Intended for Diagnostic Or Therapeutic Use.
Product Description
The neurons damage of the DCN caused by kanamycin (500 mg/kg/day) is reversible and autophagy is upregulated in the neurotoxic course of kanamycin on DCN through JNK1-mediated phosphorylation of Bcl-2 pathway in rats. The serum BUN and Cr levels are both increased at the 1st day after the period of kanamycin administration. The neurons expressing LC3 are increased at 1, 7 and 14 days after kanamycin administration in comparison to the control group. Kanamycin treatment results in the increase of autophagy in a time-dependent manner. Kanamycin sulfate (5 mg/kg) and sodium ampicillin (10 mg/kg) administered intramuscularly (i.m.) separately, and then together, to five pony mares, and the ampicillin concentration exceeds 5 mg/mL in inflamed synovial fluid for some 2.5 h after injection, and kanamycin sulfate concentration exceeds 2 mg/mL for 7 h in the pony
For Research Use Only, Not For Diagnostic Or Therapeutic Procedures.