Veliparib (CAS: 912444-00-9)





Catalog #:EBC51042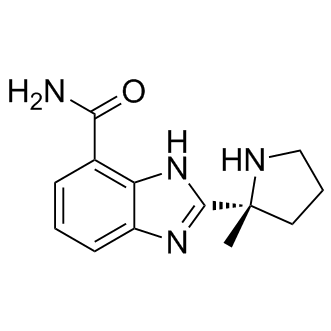 Veliparib (CAS: 912444-00-9)
| | | | | |
| --- | --- | --- | --- | --- |
| | SKU-Pack Size | Availability | Size | Price |
| | EBC51042-1ML | In Stock | 1mL(10mM in DMSO) | ¥690.00 |
| | EBC51042-5MG | In Stock | 5mg | ¥490.00 |
| | EBC51042-10MG | In Stock | 10mg | ¥690.00 |
| | EBC51042-50MG | In Stock | 50mg | ¥1490.00 |
| | EBC51042-10MG | In Stock | 100mg | ¥2490.00 |
If you want to get a larger packsize, Please contact your local distributor or
email us at
info@ebiocell.com
| | |
| --- | --- |
| | Please Select The Country You Are In To Find Your Local Distributor. |
北京美瑞克生物科技有限公司
Phone: +86 010-62890160 / 13691184142(微信同号)
2 / F, 128 malianwa North Road, Haidian District,
E-mail:

mrkbio@163.com

China
Beijing China
Website:

www.mrkbio.com
Product Information
Synonym(s)
ABT-888, NSC 737664
Chemical Name
1-[3-[4-amino-3-(4-phenoxyphenyl)pyrazolo[3,4-d]pyrimidin-1-yl]piperidin-1-yl]prop-2-en-1-one
Application
Veliparib is a potent PARP-1/-2 inhibitor shown to potentiate DNA damaging agents
CAS Number
912444-00-9
Purity
≥99.0%
Molecular Weight
244.29
Molecular Formula
C13H16N4O
SMILES
NC(C1C=CC=C2N=C([C@]3(CCCN3)C)NC=12)=O
Target & IC50
PARP-1: IC50 = 5.2 nM (human)
EOL1: IC50 = 1.08 μM (human)
SNU-5: IC50 = 3.13 μM (human)
BV-173: IC50 = 5.45 μM (human)
Solubility
DMSO: 29 mg/mL(118.7 mM)
Preparing Stock Solutions

Concentration

Solvent

Mass

1 mg
5 mg
10 mg
1 mM
4.0935 ml
20.4675 ml
40.9350 ml
5 mM
0.8187 ml
4.0935 ml
8.1870 ml
10 mM
0.4094 ml
2.0468 ml
4.0935 ml
50 mM
0.0819 ml
0.4094 ml
0.8187 ml

Shipping
Gel Pack
Storage
Store at -20°C
Research Use
For Research Use Only. Not Intended for Diagnostic Or Therapeutic Use.
Product Description
Veliparib, also named as AT-888, is poly (ADP-ribose) polymerase (PARP) inhibitor and has demonstrated excellent in vivo efficacy in a broad spectrum of preclinical tumor models in combination with a variety of cytotoxic agents. PARP is involved in DNA repair and elevated PARP levels can result in resistance to cytotoxic chemotherapy and radiation. So, PARP inhibitors hold promise as chemotherapy and radiation sensitizers. ABT-888 is also active on microsatellite instability (MSI) cell lines harboring mutations in both MRE11 and RAD50 genes compared to microsatellite stable (MSS) cell lines (wild-type for both genes).
For Research Use Only, Not For Diagnostic Or Therapeutic Procedures.