IQ-1 (CAS: 331001-62-8)





Catalog #:EBC51119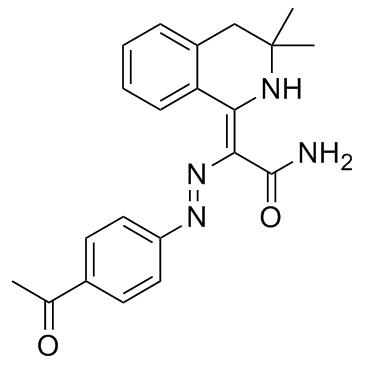 | | | | | |
| --- | --- | --- | --- | --- |
| | SKU-Pack Size | Availability | Size | Price |
| | EBC51119-1ML | In Stock | 1mL(10mM in DMSO) | ¥590.00 |
| | EBC51119-1MG | In Stock | 1mg | ¥390.00 |
| | EBC51119-5MG | In Stock | 5mg | ¥590.00 |
| | EBC51119-10MG | In Stock | 10mg | ¥790.00 |
| | EBC51119-25MG | In Stock | 25mg | ¥1590.00 |
If you want to get a larger packsize, Please contact your local distributor or
email us at
info@ebiocell.com
| | |
| --- | --- |
| | Please Select The Country You Are In To Find Your Local Distributor. |
北京美瑞克生物科技有限公司
Phone: +86 010-62890160 / 13691184142(微信同号)
2 / F, 128 malianwa North Road, Haidian District,
E-mail:

mrkbio@163.com

China
Beijing China
Website:

www.mrkbio.com
Product Information
Synonym(s)
IQ1, Wnt pathway activator
Chemical Name
2-[2-(4-Acetylphenyl)diazenyl]-2-(3,4-dihydro-3,3-dimethyl-1(2H)-isoquinolinylidene)acetamide
Application
IQ-1 is a cell-permeable tetrahydroisoquinolinylidene
CAS Number
331001-62-8
Purity
≥98.0%
Molecular Weight
362.42
Molecular Formula
C21H22N4O2
SMILES
CC(=O)C1=CC=C(C=C1)N=NC(C2C3=CC=CC=C3CC(N2)(C)C)C(=O)N
Target & IC50
β-catenin/p300
Solubility
DMSO: 72 mg/mL (198.66 mM)
Ethanol: 7 mg/mL (19.31 mM)
Preparing Stock Solutions

Concentration

Solvent

Mass

1 mg
5 mg
10 mg
1 mM
2.7592 ml
13.7961 ml
27.5923 ml
5 mM
0.5518 ml
2.7592 ml
5.5185 ml
10 mM
0.2759 ml
1.3796 ml
2.7592 ml
50 mM
0.0552 ml
0.2759 ml
0.5518 ml

Shipping
Gel Pack
Storage
Store at -20°C
Research Use
For Research Use Only. Not Intended for Diagnostic Or Therapeutic Use.
Product Description
IQ-1 is a selective inhibitor of Beta-catenin/p300 signaling by binding to protein phosphatase 2. It is used to maintain embryonic cell pluripotency in Wnt3a-treated cells and prevent spontaneous differentiation. It is also reported to upregulate the expression of Sox2 and Oct4 transcription factors.
For Research Use Only, Not For Diagnostic Or Therapeutic Procedures.